Manito Community United Methodist Church
WELCOME TO CUMC

Sunday School :
Sunday Mornings at 9:00am
Sunday

Worship

Service:
10:00am
Come join us as we study God's word and learn to abide in his love.
CONNECT WITH US



109 South Washington
Manito, IL 61546
Phone: 309-968-6226
Fax: 309-968-6226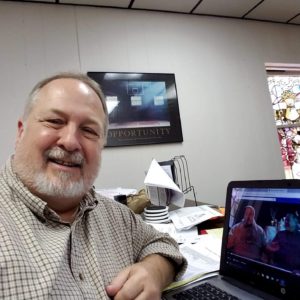 Hello, my name is Steve Oaks. What a great honor it is for me to serve the Lord and you! Let me take a moment to introduce to you a few things about me. My joys in life are being called Dad and Grandpa by my son Steven Jr. and grandson Ian. They are very busy currently with baseball, which keeps me active as well. In addition, I enjoy being involved in organizations and community projects where I have lived. I have been called into ministry after being with the YMCA over 30 years. I worked as the Financial Development and Christian Emphasis Director in Canton, IL., along with being the part-time Outreach Director at the Canton Wesley United Methodist Church. For many years The Walk to Emmaus and Chrysalis communities have been an important part of my life. Being involved with these ministries have given me a heart for being called into ministry. I have developed a passion for outreach ministries during the last 9 years while spending the week of Ash Wednesday in New Orleans and sharing Jesus with those attending Mardi Gras. My greatest ministry joy of the past year was being involved in creating an ecumenical event in Canton on Good Friday. We were blessed with eight different churches and over fifty people participating in a "Community Carrying the Cross Walk". This has excited so many in the community that they are already planning for next year. I truly believe God has unlimited blessings out there for us all and I am looking forward to many blessing in Manito and at Community United Methodist Church. Steve Oaks 309-221-8383 Steve.oaks@oaklinedevelopers.com
Our newsletter is now being printed monthly, if you would like a copy emailed to you please call the church office. Printed copies are available to pick up on Sunday, or just click on link above.
The Cross and Flame is a registered trademark and the use is supervised by the General Council on Finance and Administration of The United Methodist Church. Permission to use the Cross and Flame must be obtained from the General Council on Finance and Administration of The United Methodist Church: