Our History:
Traveling ministers started the first Methodist congregation in the 1850's on the northwest side of Manito.
rev. M.E. Pomfret was the first resident pastor during 1866 and 1867. In 1867 a new one-room church was built across the street south of the masonic hall. In 1880 the Manito and Spring Lake circuits were combined because neither congregation could support a minister alone. When Manito received its first post office in 1881 the charge became known as the Manito Methodist church. In 1898 a more up-to-date church was erected and dedicated by rev. Clarke in 1899. a fire in 1930 destroyed the church building and it was replaced by a larger brick church in 1931. the new church was dedicated in 1936. Through the years, the location, the building and the people have changed but there remains one constant that never changes: god's love for His children and His desire to share the love with the world through the local Church.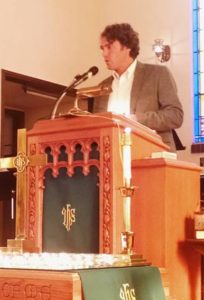 Grace and Peace to you.
Like the people of Israel and the Lord Jesus Christ, the Church is the Servant of God chosen to help bring joy and justice to our world. The Community United Methodist Church in Manito is a member of the wider body of Christ, and I'm happy to be its appointed pastor. Originally from Peoria, Illinois, I was raised to see church as part of family, and am glad to be in this area again. After graduating from Bradley University, my curiosity in faith and the Bible took me to divinity school in Denver, where I attended the Iliff School of Theology. Upon completion I served as a vikar in two small churches in Bavaria, Germany, and there my education certainly continued in new and interesting ways. Since that time I have served in various ministry roles, including associate pastor, hospital chaplain, and, for a brief time, ski bum. The people of Community United Methodist are loving and warm. They welcomed me here with open arms, and I personally invite you to join us too. Worship is every Sunday at 10am. Church school is available for children and adults at 9am.
"The Lord bless you and keep you;
the Lord make his face shine upon you
and be gracious to you;
May the Lord turn his face toward you
and give you peace." 
Blessings,
Pastor Greg